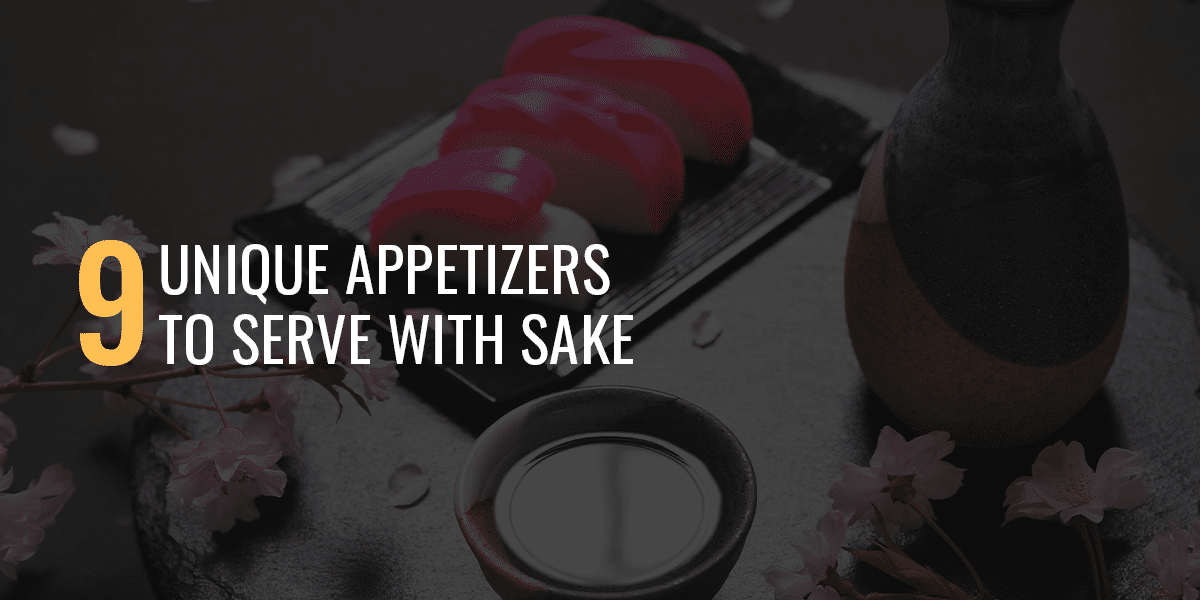 When it comes to pairing sake and food, there are no wrong answers. But it can always help to have a little guidance. Whether you're new to the world of sake or looking to deepen your knowledge, we're here to help you out. Here are our nine best appetizers to serve with sake to get you started!
Savory Otsumami
Otsumami — pronounced "oats-ooh-mommy" — is the Japanese word for snacks and appetizers typically eaten with alcohol. Here's a quick list of our favorite savory otsumami snacks for sake pairings!
1. Steamed Edamame
Steamed edamame is a classic appetizer at most izakayas. It's simple to make and super nutritious, too — one cup of shelled edamame contains 11 grams of complete protein.
If you make edamame at home, you can season it however you like, including by adding ingredients like:
Coarse sea salt and black pepper
Curry spices
Garlic salt
Chili oil
Wasabi
Soy sauce
Everything bagel seasoning
The best sake for this dish will vary depending on how you season it. However, you can't go wrong with room-temperature Sho Chiku Bai Tokubetsu Junmai — a unique sake offering a sweet, slightly spicy flavor that's rich in umami. It's perfect for lightly seasoned edamame.
2. Kamaboko
Another traditional choice is kamaboko, a Japanese steamed fish cake made from surimi, egg whites, sugar, salt, and mirin.
On its own, kamaboko has a mild, slightly sweet flavor and firm texture that makes it a versatile ingredient in stews, soups, and salads. But you can often find snack varieties that are perfect for pairing with sake like:
Mentaiko kamaboko: Mentaiko kamaboko is kamaboko stuffed with mentaiko, which is spicy caviar
Chiikama: "Cheese kamaboko" is stuffed with gooey cheese bits, usually sold in stick form
Chiitara: Similar to chiikama, chiitara is a thin cheese stick sandwiched between two thin surimi slices
Our favorite sake to drink with kamaboko is a medium-bodied, dry variety like our Sho Chiku Bai Premium Ginjo. Its smooth texture and clean, refreshing flavor pairs well with kamaboko's subtly sweet flavor without being too overpowering.
3. Tebasaki
Tebasaki is a Japanese style of chicken wing hailing from Nagoya. Translated literally as "wing tip," tebasaki is ultra-crispy and typically served with a sweet, spicy sauce.
The secret to their unrivaled crispiness lies in the frying process. Tebasaki is usually served with the skin still on, and traditional deep frying isn't enough to remove the excess moisture from the skin. Cooks fry the wings twice at a lower temperature for longer periods of time, which allows the collagen in the skin to dry out and puff up, creating a deliciously crispy texture.
Because tebasaki is such a rich food, it goes best with an equally bold sake. We recommend chilled Sho Chiku Bai REI Junmai Daiginjo, which offers a creamy mouthfeel and a savory flavor that builds as you sip.
4. Grilled Shishamo
Another of the most popular appetizers that go with sake is shishamo, which is a small saltwater fish that is grilled and served whole at izakaya. It's also a simple and easy dish to make at home if you have access to a grill. Serve with a side of grated daikon radish to add a crunchy kick.
This dish pairs beautifully with a savory, full-bodied Junmai sake like our Sho Chiku Bai Classic Junmai. In the summer, you might also enjoy pairing your shishamo with our refreshing Sho Chiku Bai Takara Sierra Cold, which complements the delicate dish with its light body and lasting finish.
5. Potato Chips
It might surprise you, but potato chips are one of the best snacks to eat with sake. Their high-fat content contrasts well with sake's clean, crisp flavor, creating a complex combination that's great for sharing with friends.
If you really want a special treat, try checking your local Asian grocery store for Japan-exclusive potato chip flavors. The shelves of Japanese convenience stores — called "konbini" for short — are full of all sorts of unique chip varieties that can bring your otsumami to the next level. And you can swap out your sake based on your chip flavor for a new experience every time.
Here's a brief list of some of our favorite chips to try with sake:
Calbee nori-shio: These sweet-and-salty chips are flavored with salt (shio) and seaweed powder (nori), giving them a delicious umami taste. Try pairing them with a dry, full-bodied sake to round out the flavors
Calbee pizza: These wavy chips are coated with pizza flavorings and extra cheese, making them a great pairing for a dry Junmai like our Sho Chiku Bai Extra Dry Junmai
Royce Chocolate potato chips: Chocolate-covered potato chips and a rich, dry sake like our Sho Chiku Bai SHO Junmai Organic are a match made in heaven
Sweet Pairings
Now, there are many more savory pairings we could mention. But if you've got a sweet tooth, you're probably wondering what desserts go well with sake. These sweet snack pairings are just what you need!
6. Crème Brûlée
While this luxurious French dessert may seem like an unlikely pairing for Japanese sake, the two play off each other beautifully. A creamy, bold nigori sake is the perfect complement to the silky vanilla custard in crème brûlée. We recommend our Sho Chiku Bai Nigori Crème de Sake, which balances the slightly bitter taste of the burnt sugar topping with its sweet notes of melon and vanilla ice cream.
7. Ice Cream
Sake contains lactic acid as a result of its fermentation process, which is why dairy-based foods like ice cream make some of the best pairings for sake. Generally, you'll want to choose a fairly simple ice cream flavor, like vanilla, chocolate, or strawberry, to really enjoy the combination.
A sweet, slightly fruity nigori like our Sho Chiku Bai Nigori Silky Mild is a delicious pairing for vanilla ice cream. You could also try a flavored sake, like our HANA and YUKI varieties, that will help to bring out the sweetness in the dessert.
8. Chocolate Cake
There are few desserts that satisfy sugar cravings quite like a rich chocolate cake. And sake is one of the few alcoholic beverages subtle enough to enhance the experience of eating a chocolate cake rather than rival the cake's intense flavor.
With its silky mouthfeel and lasting, juicy finish, our Sho Chiku Bai Junmai Daiginjo is the perfect complement to decadent chocolate lava cakes, devil's food cake, or dark chocolate mousse cakes.
9. Fruit Sorbet
Unwinding with a dish of sorbet is one of the best ways to cool off after a hot summer day. And a bright, refreshing sake like our Sho Chiku Bai Shirakabegura MIO Sparkling Sake is the perfect match! This fruity, effervescent sake is sweet and acidic, with a lasting finish and a full body, which emphasizes the sweetness of the sorbet without overwhelming it.
Shop Takara Sake USA Online
If you're looking for the right drinks to serve at your next cocktail party, our wide selection of premium sake is the best place to start. From sweet and fruity to dry and acidic, we have a sake that suits every flavor profile. Browse our selections to find the perfect sake pairings for your favorite snacks!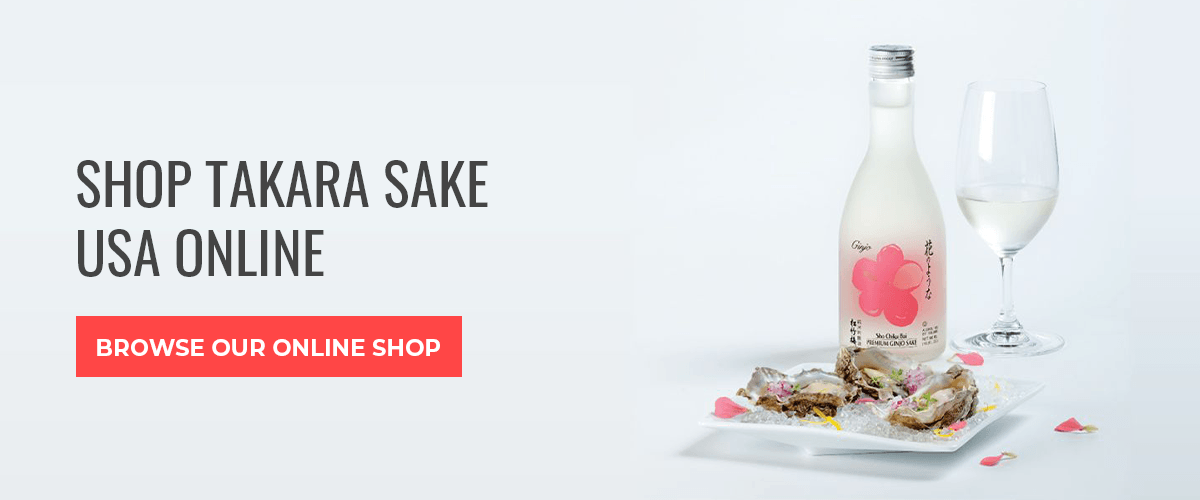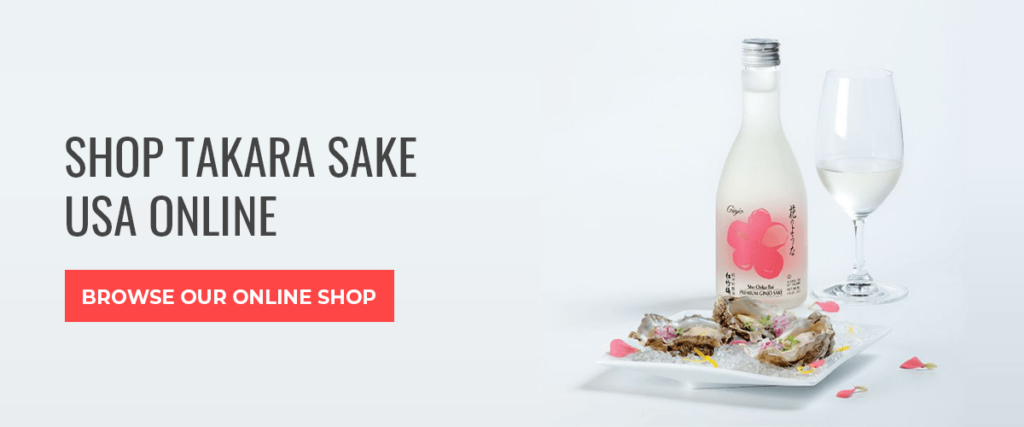 Want to Learn More?
We're always happy to answer your sake related questions and
help you find what you're looking for!
Contact Us