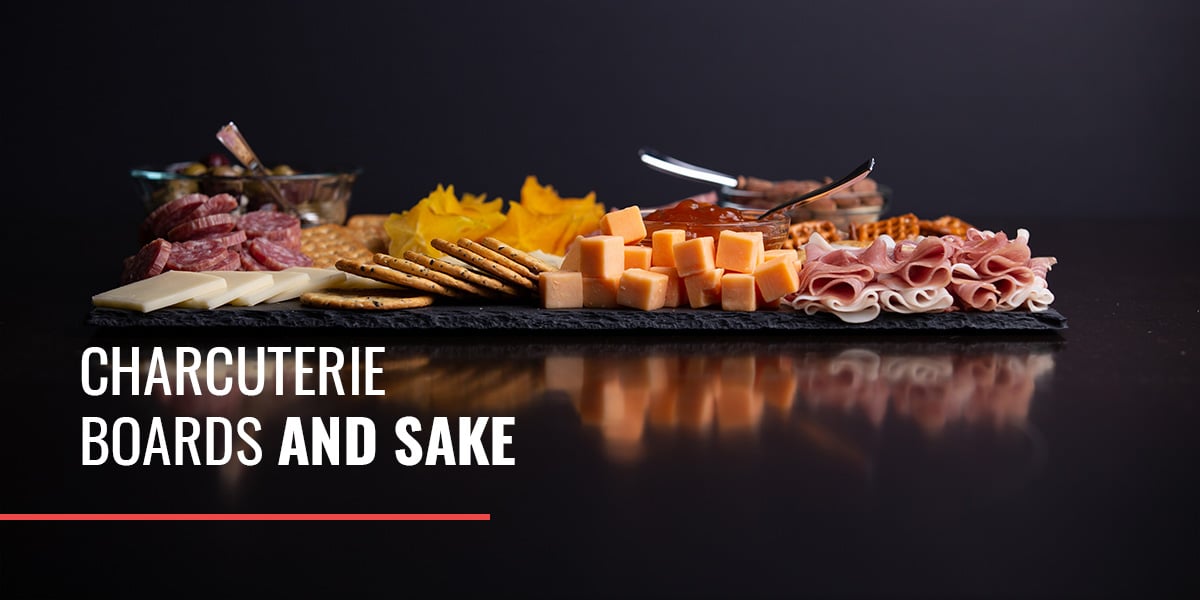 You're likely familiar with the classic pairing of wine and cheese, but have you ever considered what other drinks can pair with charcuterie? Sake and cheese boards offer a great change of pace. With a wide range of flavors and types of sake to consider, the opportunities to pair them with your favorite cheeses are limitless. This article will explore some delicious sake and cheese pairings, as well as other snacks for a sake-friendly charcuterie board.
Best Sake and Cheese Pairings
When it comes to serving cheese with alcohol, wine tends to be a popular pick. However, cheese paired with sake is just as exquisite. Sake naturally pairs well with cheese since both contain lactic acid. This lactic acid adds notes of buttermilk and cream to sake's texture and flavor.
In cheesemaking, lactic acid creates similarly delicious flavor compounds with high levels of savoriness or umami. This flavor profile complements the briny notes found in sake, making these two a delightful match. Below are some great cheese and sake pairings to enchant the palate.
1. Fresh Cheeses
Fresh cheese like mozzarella, goat cheese, ricotta and feta is cheese in its youngest, purest form. It's identified by a white color and a soft, creamy or crumbly texture. Fresh cheese tends to have a simple, mild flavor with a touch of acidity. These characteristics make fresh cheese a delicious complement to sakes with citrus notes and a fruity, refreshing aroma.
Consider pairing fresh cheese with a light and crisp Junmai Ginjo. The drink's subtle fruity notes and clean, delicate acidity can offset the tang of fresh cheese without overpowering its creaminess like some richer white wines often do.
2. Semi-Hard Cheeses
Semi-hard cheeses like cheddar, gouda, havarti and gruyere are firm yet springy in texture with less water content than fresh cheeses. They have a distinct umami flavor from aging while retaining the flavors of fresh milk.
Semi-hard cheese pairs wonderfully with dry and rich sakes with equally umami-focused complexity. Try pairing a semi-hard cheese with our Classic Junmai Sake — its savory notes, concentrated rice and grain flavors and umami-forward flavor profile make it an excellent choice.
3. Hard Cheeses
Hard cheeses like parmesan, manchego, asiago and pecorino romano have an exceptionally sharp taste and firm texture due to their very low water content. They're typically dense and crumbly with an almost granular texture.
Hard cheese pairs beautifully with a smooth, rich sake with an umami-packed finish that rounds out the overall tasting experience. With that in mind, you might consider trying a hard cheese with our Classic Junmai or REI Junmai Daiginjo sake.
4. White Mold Cheeses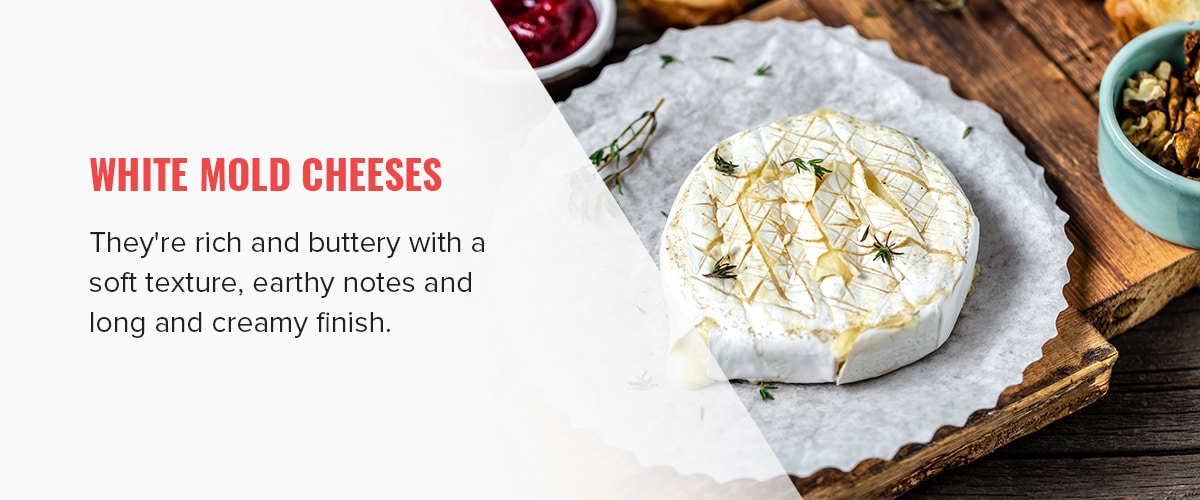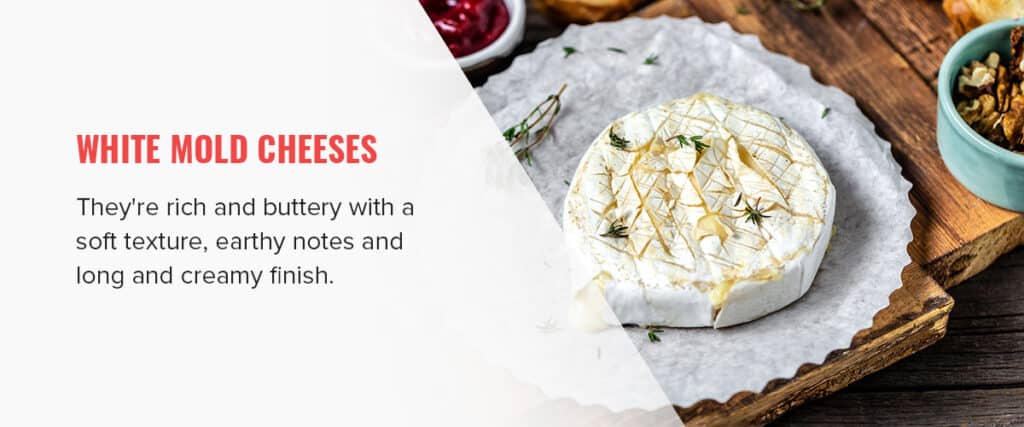 White mold cheeses like camembert and brie are known for their white mold cultures that cause a white rind to develop on the outside. They're rich and buttery with a soft texture, earthy notes and long and creamy finish.
These cheeses tend to complement sakes with a slight nutty essence and layered complexity. Sho Chiku Bai Organic Nama sake has a complex earthiness, deep flavor, pleasant acidity and robust finish, making it a great adjunct to white mold cheese.
5. Blue Mold Cheeses
Blue mold cheeses like roquefort and gorgonzola are rustic and mildly pungent. Their blue mold cultures result in prominent blue spots and a salty and spicy taste. Their aromas often resemble roasted hazelnuts and sometimes even chocolate.
A blue mold cheese can pair nicely with sakes containing rustic flavors of dried fruit or aged sakes. Try pairing roquefort or gorgonzola with a mild and fruity Sho Chiku Bai Nigori Silky Mild sake. Nigori tends to complement spicy foods and often acts as a dessert wine. Our online store-exclusive items such as Sho Chiku Bai Hizo Koshu 15 years aged sake and Sho Chiku Bai Bourbon Barrel Aged Sake would be the perfect pairing.
6. Washed-Rind Cheeses
Washed-rind cheeses like époisses, mont d'or and limburger use a special curing process with mold-bearing agents or saltwater brine. This stimulates bacterial growth on its surface to develop a rich flavor. These cheeses have a yeasty, bready and mild flavor, slightly resembling an undercooked pizza crust.
Melty and flavorful, washed-rind cheeses pair well with equally rich, yeasty and aromatic sakes. Junmai's savory and breadlike flavors make it a go-to choice. Warming up the sake can complement the texture of the cheese and thoroughly delight the palate. Sho Chiku Bai Classic Junmai sake or Sho Chiku Bai SHO Ginjo Nigori is also surprisingly the perfect pair for these types of cheeses.
Build Your Charcuterie Board
You might have heard of the popular charcuterie board trend. People are expanding beyond traditional cold-cooked or cured meat and are prepping and arranging various appetizers on a wooden slab for guests to enjoy. If you're looking for a way to spice up the traditional wine and charcuterie board pairing with something more unique and exciting, sake is a refreshing and exotic beverage that's sure to be a crowd-pleaser for your guests.
Explore some ideas for building your charcuterie board below!
What Snacks Are Good With Sake?
Now that we've covered some delicious cheese and sake pairings, you can start to assemble a sake-friendly charcuterie board. A charcuterie board can include far more than just cheese — you can also add cured meats, crackers, vegetables, fruits, dips or anything else you please. There are no right or wrong food pairings with sake, but below are some snacks and sake that taste particularly well together:
Sushi, sashimi, or poke: Try pairing our Junmai Ginjo or Junmai Daiginjo sake with sushi or sashimi. These sakes tend to complement cold, lightly seasoned or vinegar-marinated foods. A shrimp cocktail is another seafood option that pairs well with sake. A little spicy poke can also expand the pairing choice of sake, including Junmai or Tokubetsu Junmai sake.
Fruit: Fresh fruit and sparkling sake are a match made in heaven. In particular, fruits like grapes, apples, bananas and melon tend to pair perfectly with MIO Sparkling sake or HANA Flavored Sake as an aperitif.
Vegetables: Vegetables with slight bitterness like asparagus, arugula and broccoli are well suited to sake. Green and black olives also have a distinct saltiness and umami-forward flavor that complements the beverage. Sho Chiku Bai Premium Ginjo or Sho Chiku Bai Organic Nama would be the perfect pairing.
Nuts: Dry sake and nuts are a classic combo in Japan. Salty and umami-rich nuts like pistachios, almonds, peanuts and cashews tend to pair well with sake and add some crunch to your snack ensemble. Sho Chiku Bai Shirakabegura Kimoto Junmai or Sho Chiku Bai Organic Nama would be the perfect match.
Chips or crackers: Potato chips' lingering fattiness can pair wonderfully with sake. A sweet sake can soften the saltiness of the potato chips and enhance the overall taste. If you want a slightly more nutritious snack, rice crackers are great with sake as well — especially considering they're both made from rice! Don't forget to pair it with Sho Chiku Bai Classic Junmai.
Chocolate: If you're looking to add something sweet to the mix, chocolate and sake are a pleasant pair. A good tip is to match the type of chocolate to the sweetness level in your sake. A sake with a creamier mouthfeel, like Nigori, pairs with many chocolates — especially sweet milk chocolate or white chocolate — for a melt-in-your-mouth sensation.
Try a Takara Sake With Your Next Charcuterie Board
If you plan on serving sake with your next charcuterie board, we have a high-quality selection at Takara Sake. From sweet fruit flavors to imported varieties to classic brands like Sho Chiku Bai, you can find a sake that speaks to your preferred taste and pairs beautifully with your favorite snacks and appetizers. Browse our sake products and order yours today!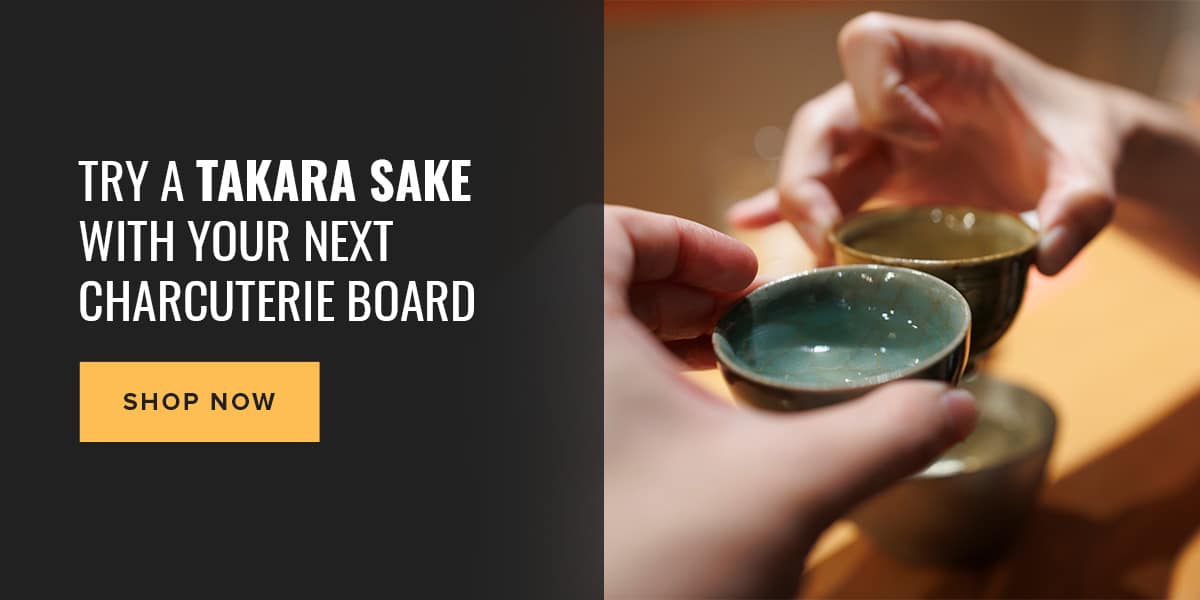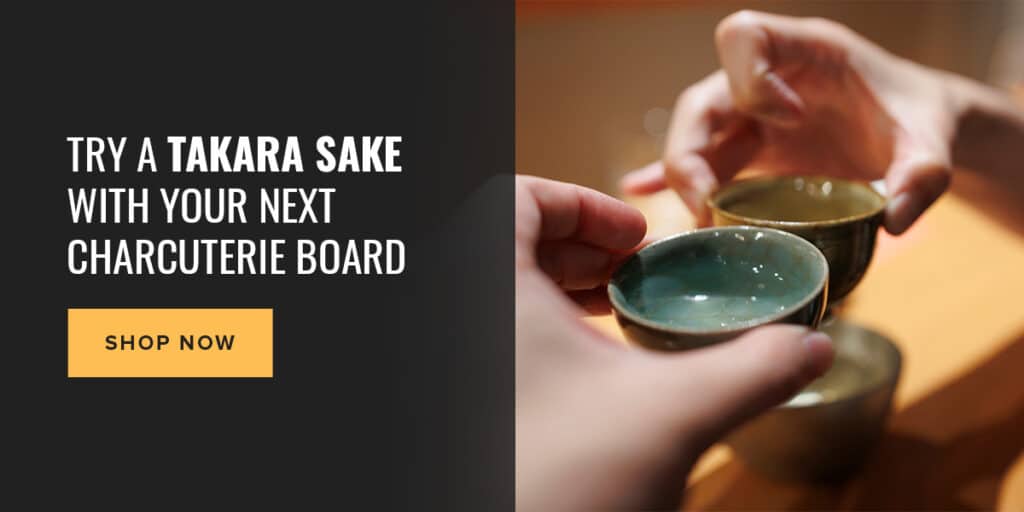 Want to Learn More?
We're always happy to answer your sake related questions and
help you find what you're looking for!
Contact Us