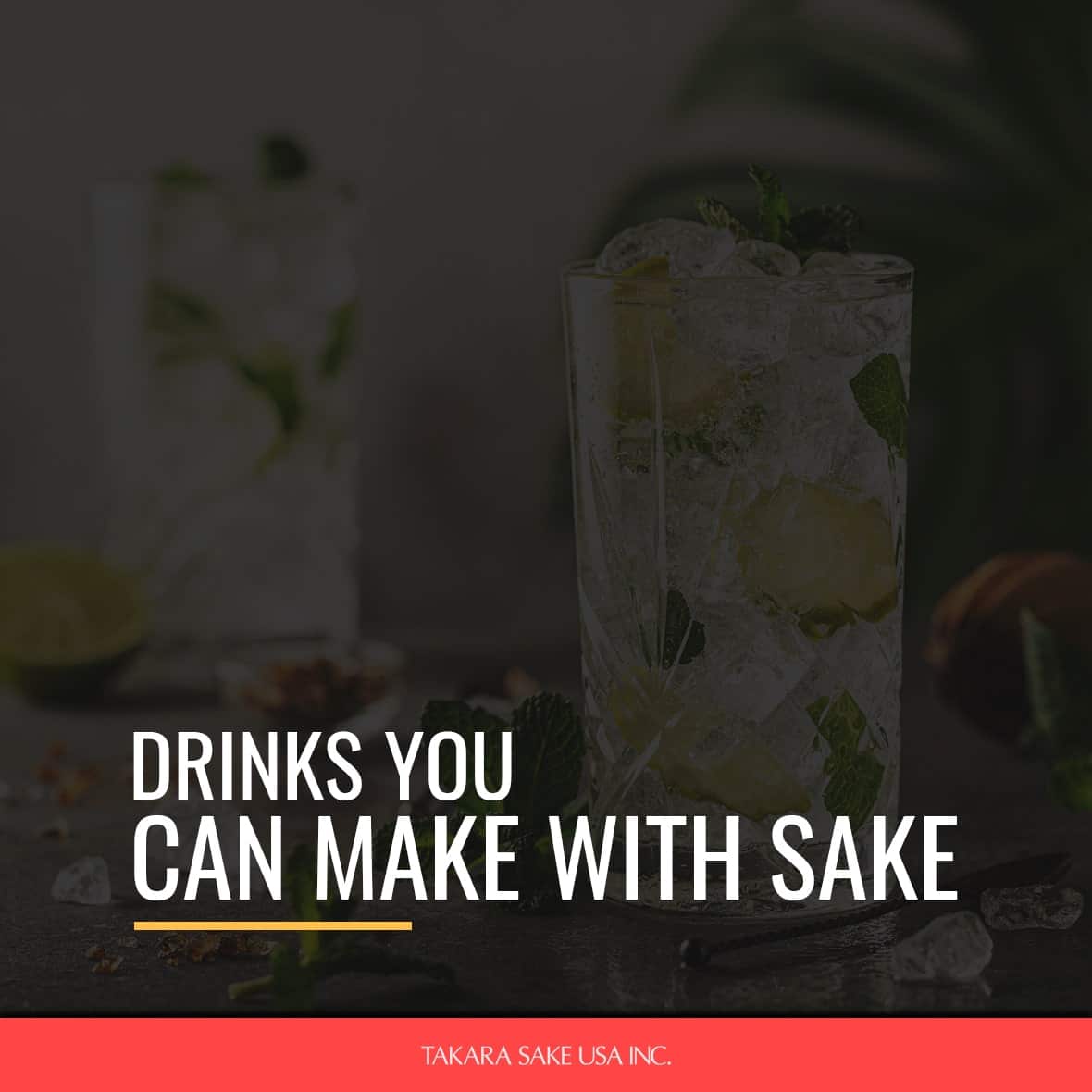 If you're looking for new sake cocktails to try out, we've got you covered with this assortment of fun and creative drinks that have sake in them. From fruity to savory to sour flavors, you're sure to find something from this list that you'll enjoy. Let's get started!
What Is Sake?
Sake is an alcoholic beverage created from rice and water. You can enjoy sake on its own, or pair it with your favorite food. Some types of sake can serve in different temperatures from cold to hot, in order to emphasize the taste of each bite. Sake can also, use in cooking such as marinades to tenderize meat or make your original sauces. You can also add mixers and other ingredients to create delicious cocktails. Sake can substitute any white liquor in cocktails. Lower calories and lower alcohol percentage alternative! Furthermore, sake is considered as a valuable addition to today's mixology scene. In the next section, we'll look at some of these popular sake mixed drinks.
9 Familiar Drinks You Can Make With Sake
Whatever your preferred taste or sweetness level, we have plenty of mixed drink recipes in store for you to try out. Here are nine different cocktails with sake to help inspire your next drink creation!
1. Sake Mojito
A sake mojito combines the taste of cool mint with tangy lime for a refreshing blend of flavors. Grab the ingredients below to make one of your own:
To create your mojito cocktail, add your mint leaves to a Collins glass and use a muddler to press them gently. Add in your remaining ingredients, then fill the glass with ice. Top with some soda water and enjoy!
2. Cherry Bomb
This drink is fun and easy to make. It's also perfect to enjoy on a spring or summer afternoon. You'll need the following ingredients for your cherry bomb cocktail:
Pour your sake, cherry syrup, bitters, and ice into a shaker and shake thoroughly. Strain this mixture into an ice-filled glass, then top your cocktail with some MIO sparkling sake. It's that simple!
3. Lemon Drop Sake Cocktail
Satisfy your citrusy cravings by mixing up your very own lemon drop sake cocktail. This classy beverage is the perfect way to relax after a long day. To create this drink, you'll need these three ingredients:
Start by pouring a generous amount of ice into a cocktail shaker. Add in your sake, triple sec, simple syrup, and lemon juice. Shake this mixture thoroughly for about 20 seconds, then strain your cocktail into a small glass to enjoy.
4. Morning Glory
A morning glory cocktail is a refreshing mixer that offers a unique blend of flavors — ginger, lemon, cucumber, apple and more! Try making your own with the following ingredients:
1 1/2 ounce Sho Chiku Bai Organic Nama Sake
3 ounces gold-pressed spinach, cucumber, apple, lemon and ginger juice
½ ounce Italics Liqueur
½ ounce verjus
1 dash Fuji Bitters
Grated nutmeg, for garnish
Sliced cucumber, for garnish
Simply combine, shake and strain your ingredients. Garnish with some nutmeg and cucumber if desired. Sip and enjoy!
5. Kyoto Sour
If you've acquired a taste for sour fruit flavors you'll love the Kyoto Sour. This cocktail combines sake with tangy grapefruit and lemon juice to drive your tastebuds wild. To add a cool dose of flavor to the mix, garnish it with some fresh mint sprig. You'll need the ingredients below to make this drink:
2 slices of grapefruit
2 dashes green Tabasco sauce
3 ounces Sho Chiku Bai Junmai Daiginjo
1/2 ounce freshly squeezed lemon juice
3/4 ounce agave nectar
Mint sprig and a grapefruit slice for garnish
Use a shaker to muddle your grapefruit and Tabasco sauce. Add in your sake, agave nectar, lemon juice and ice, then continue to shake until your cocktail is thoroughly chilled. Strain this mixture into an ice-filled glass, then garnish it with a slice of grapefruit and a fresh sprig of mint.
6. Grapefruit Mimosa
Soak in the summer season with a delicious and easy grapefruit mimosa. This is an ideal beverage to serve at your next breakfast or brunch gathering as well! You'll need:
Ruby red grapefruit juice
Grapefruit wedge for garnish
Fill a champagne flute halfway with grapefruit juice, then fill the remaining half with your MIO sparkling sake. Garnish with a fresh wedge of grapefruit and enjoy!
7. Strawberry Saketini
There's no better way to enjoy a warm summer afternoon than by sipping a strawberry sake cocktail. Mix up a fun and delicious strawberry saketini with the following ingredients:
2 ounces Sho Chiku Bai Classic Junmai Sake
1 ounce strawberry puree or juice
1/2 ounce lemon juice
1/2 ounce simple syrup
1 strawberry and lemon twist for garnish
In a glass full of ice, shake your ingredients vigorously for 3-5 seconds. Strain this mixture into a cocktail glass, then garnish your drink with a strawberry and a lemon twist.
8. Bloody Mary
If you prefer a savory cocktail over a fruity one, we've got you covered. This Bloody Mary combines the taste of fresh tomato, parsley and dry sake for a refreshing and delicious cocktail. Here are the ingredients you'll need:
2 1/2 ounces Sho Chiku Bai Extra Dry Junmai Sake
1 ounce tomato juice
1 sprig spring parsley
0.25 ounce lemon juice
0.25 ounce lime juice
1 dash Tabasco or Wasabi sauce
Salt and pepper
Olives, lime or lemon slices for garnish
Fill a glass with all of your ingredients except for the tomato juice. Stir well, then add ice. Top it with tomato juice and stir it again briefly. Add your garnishes and enjoy!
9. Pineapple Margarita
If you're craving a sweet and tangy yet refreshing drink, this pineapple sake margarita won't let you down. It creates a perfect blend of orange, pineapple and sake that you're sure to enjoy. To make this cocktail, gather the following ingredients:
3 cups pineapple juice
1 3/4 cups orange juice
Salt
1 grilled pineapple wedge for garnish
Pour your juices and sake into a pitcher and mix thoroughly. Grab a low ball glass and salt the rim, then add some ice to this glass. Pour your margarita from the pitcher into the glass and garnish with the grilled pineapple wedge.
Order Your Sake Online at Takara Sake USA Inc.
We hope these nine sake cocktail recipes have sparked some inspiration for your next beverage. At Takara Sake USA, we have an array of flavorful sake products to choose from. Whether you're looking for something to pair with a meal, mix up a tasty cocktail or enjoy on its own, we have sakes to satisfy any preferred taste or purpose. Order yours today!

Want to Learn More?
We're always happy to answer your sake related questions and
help you find what you're looking for!
Contact Us